05/02/2017
Is this Van Dyck's Coat of Arms?
JVDPPP is studying the small grisaille portraits on oak panel that relate to Van Dyck's 'Iconography' – a series of engravings depicting the famous men and women of his day. Sometime after their deaths in 1640 and 1641 respectively, Erasmus Quellinus (1607-1658) designed a double portrait of the 'princes of painting', Rubens and Van Dyck. The faces were derived from Van Dyck's 'Iconography' and the engraving was executed by Paulus Pontius (1603-1658). Pontius had also produced some of the engravings for the 'Iconography'.
Rubens and Van Dyck are described as 'Eques' – Knights. Both were knighted by King Charles I, in 1630 and 1632, and Rubens was also knighted by King Philip IV of Spain in 1624. The coat of arms on the bottom left of the engraving belongs to Rubens. It was published by W. Nöel Sainsbury in 1859 in his Original Unpublished Papers illustrative of the life of Sir Peter Paul Rubens. The legend states that the coat of arms was certified at the Heralds Office, Brussels.
Therefore, it is possible that the coat of arms on the right of the engraving belongs to Van Dyck. It features only in this print and has not been published elsewhere, as far as we can find.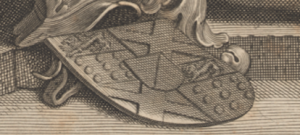 Delving into the archives of the Brussels Herald's Office to confirm that it is indeed Van Dyck's coat of arms will be one of the projects for our new Archival Research Fellow (to be appointed soon).
P.S. The eagle-eyed will immediately spot that the arms contain two saltires (diagonal crosses) and that a saltire featured in the arms of Van Dyck's friend, George Gage. It  can be seen on the column in Van Dyck's George Gage with Two Men painted in Rome ten years before he was knighted and now in The National Gallery, London.
Justin Davies
Update: It is Van Dyck's coat of arms! Thank you to Karen Hearn for sending us the description, and to Norroy and Ulster King of Arms for confirming that the description matches with the engraving, contained in Michael Siddons' The Heraldry of Foreigners in England 1400-1700, 2010, p. 123. We will now try to find the original application and colour design in the archives.
ARMS: Quarters 1 & 4. Azure six roundels 3, 2 and 1 Or and for augmentation on a chief Gules a lion passant gardant Or. 2 & 3. Sable a saltire Or. Over all an inescutcheon Or thereon a bend sinister Azure.
CREST: A greyhound's head.
06/01/2017
Collections visited in 2016
JVDPPP examined 44 paintings from 17 public and private collections. We would like to thank the curators, conservators and owners at the following for their considerable assistance: the National Gallery, London; Museo de Arte de Ponce, Puerto Rico; Bass Museum of Art, Miami; The John and Mable Ringling Museum of Art, Sarasota; Museum of Fine Arts, Budapest; Galerija Božidar Jakac, Konstanjevica na Krki, Slovenia; Museum Boijmans Van Beuningen, Rotterdam; Musée des Beaux-Arts de Valenciennes; Musée des Beaux-Arts de Besançon; Rockoxhuis, Antwerp; Royal Museums of Fine Arts Belgium, Brussels; private collections, London and Belgium.
15/12/2016
A new reference to the greatest group portrait ever destroyed – Van Dyck's painting of the Brussels City Council
In 1628-9 Van Dyck was commissioned to paint a group portrait of the Brussels City Council. It contained 23 life-size portraits. This is more than appear in Rembrandt's famous The Night Watch (1642). It was the largest painting that Van Dyck executed and achieved great fame across the Netherlands. It hung in Brussels Town Hall but was destroyed during the French bombardment of the city August 13-15th, 1695.
JVDPPP unearthed a new and rare archival reference to the painting in a Swedish archive. A Swedish nobleman, Mårten Törnhielm, visited Brussels in 1687 in the company of the architect Nicodemus Tessin. In his travel diary, he recorded visiting the Town Hall where, 'in another room is a very large piece by Van Dyck, depicting how all the Councillors, with lifelike faces, sit in their order, all painted life-size.' It can only be imagined how this striking painting must have looked.
Justin Davies
01/12/2016
A new panel maker's mark discovered – Sanctus Gabron
Five copies of Van Dyck Apostles are first recorded in the collections of the Museum in Besançon in South-East France in 1799. Perhaps they were loot from the French First Republic's annexation of the Low Countries in 1794. On the back of Paul we discovered, after much searching in raking light, a previously unrecorded panel maker's punch mark – SG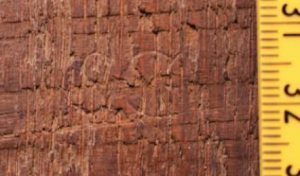 Research has identified the mark as being that of Sanctus Gabron, the younger brother of the better known and well recorded panel maker, Guilliam Gabron. Sanctus Gabron is recorded as a frame maker and a son of a Master of the Guild of St. Luke in the year 1615-16 and as a panel maker and Master himself in the Guild register for the year 1617-18. Further research in the archives will determine the years that Sanctus Gabron worked. The tree that was used by Gabron to make the panel was felled between 1610 and 1620 according to our dendrochronologist. The Guild of St Luke brand mark, also on the reverse of the panel, was in use between 1618 and 1626. All this points to Paul (below) being a copy painted around the same time or soon after Van Dyck painted the originals during his first Antwerp period up to his departure for Italy in 1621.
Justin Davies