19 April 2018
Charles I, Van Dyck & the Spanish Match: Connoisseurs and Collectors as Royal Diplomats, with new findings on four famous Van Dyck paintings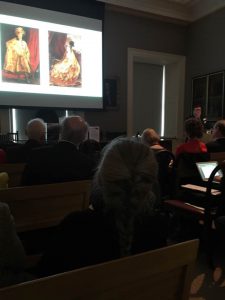 On 12 April, JVDPPP co-founder Justin Davies gave a paper at the Charles I: King and Collector exhibition conference organised by the Royal Academy, Royal Collection Trust and the Paul Mellon Centre.
The paper was titled 'Charles I, Van Dyck & the Spanish Match: Connoisseurs and Collectors as Royal Diplomats, with new findings on four famous Van Dyck paintings.' It explored the role played by Van Dyck's friends, George Gage, Sir Tobie Mathew, Endymion Porter and Sir Kenelm Digby in Rome and Madrid around the failed Spanish marriage negotiations 1621-3.
New findings were presented on four pictures painted by Van Dyck in Rome 1621-3:
The possible identification of the man on the right of George Gage with Two Men in the National Gallery, London, as the Antwerp born art dealer Ferdinand van den Eynden (1584-1630), who was active in Naples and Rome in the 1620's;
A previously unremarked, intimate friendship between Cardinal Guido Bentivoglio (portrait by Van Dyck in the Pitti Palace, Florence) and Sir Tobie Mathew;
The strong likelihood that the portrait of Lady Shirley (National Trust, on loan to Petworth House) was gifted to King James or Prince Charles by Sir Robert Shirley 1624-5 as part of his promoting the silk trade, identified by a possible missing loose page from Van der Doort's catalogue, transcribed by George Vertue and published in 1757. The picture hung in the Queen's Gallery at Greenwich and was subsequently sold at the Commonwealth Sale;
The remarkable resemblance between the facial features of Lady Shirley and Susanna in Susanna and the Elders (Alte Pinakothek, Munich), with new findings on its Neapolitan provenance, its Saint Sebastian pendant and the Susanna seen by Nicodemus Tessin in Antwerp in 1687.
These findings will be explored fully in future JVDPPP publications.
How to cite: Davies, Justin. "Charles I, Van Dyck & the Spanish Match: Connoisseurs and Collectors as Royal Diplomats, with new findings on four famous Van Dyck paintings." In Jordaens Van Dyck Panel Paintings Project.
jordaensvandyck.org/charles-i-van-dyck-the-spanish-match-connoisseurs-and-collectors-as-royal-diplomats-with-new-findings-on-four-famous-van-dyck-paintings/ (accessed 5 October 2023)
© Jordaens Van Dyck Panel Paintings Project (terms and conditions)